With several distinct trucking dispatch software suppliers, it's understandable that finding the perfect solution might be difficult. A dispatch trucking software system promises to decrease expenses and increase efficiency wherever you seek, but how could you know what is the best trucking dispatching software for a trucking company?
Once you choose transportation dispatch software, you should examine your demands while pricing might not be the only aspect to note. Make a list of "essential" features, such as functionalities, monitoring, and process improvement.
Now consider the "must-have" components your business needs, such as GPS timestamps for workers clocking in and out, survey generation, feedback, online reviews, conversation, etc. You also don't want to waste your drivers' time with corporate logistical
What is dispatch trucking software and How Does It Work?
Most people don't know about computer-aided dispatch trucking software. Truck dispatch and tracking software help trucking companies track their assets, shipping route optimization, and schedules, and reduce risk factors. This can lead to lower operating expenses for trucking companies.
What to Look for in Dispatch Software for Trucks?
When it comes to selecting the best truck dispatching software, you should conduct your research first. As previously said, pricing isn't the only issue to consider while selecting trucker dispatch software.
How does dispatch software trucking work?
The trucking dispatch software should offer easy-to-use powerful features that work for your trucking business specialty regardless of how many vehicles or staff you have. Operational features like planning and time monitoring, interaction, and job schedules should all be included.
Check for favorable client feedback and how friendly the customer service staff is. Each HVAC dispatch trucking software program is unique, so you must know anything you want and what functionality you want when making a purchase.
Best Trucking Dispatch Software Solutions
This software offers an integrated approach to managing freight trucking operations. It facilitates efficient load assignments, route optimization, and real-time communication, enhancing overall fleet productivity.

Everyone else nowadays has grasped what we do in the trucking sector has always known: transporting freight is critical to the logistics system, and the production process as a whole has been critical to all Americans' lives.
Horizon GO is working for 40 years to improve the lives of truckers and help businesses hire them by providing the best trucking dispatch software solutions. They provide the best cloud-based dispatch software which is named Horizon GO. The company falls under the top 10 dispatch management companies in the USA. Their primary goal is to promote efficiency and increase profits for everyone involved.
HorizonGO raises the standard furthermore by concentrating on what you want: accessibility, customization, reduced documentation, reduced cost, and cloud-based mobile dispatch management and communication efficiency.
We take pleasure in listening to the trucking industry's needs and meeting them. That is what our next-generation program package entails. We hope you agree with us.
And if there's something you need that Horizon GO trucking doesn't cover, simply let us know. Book your Free trial now.
Horizon Go Dispatch Software Features
Visibility
Dispatchers work similarly to traffic controllers. They're monitoring several trucks on long journeys and have to keep in touch with their "operators" to create a safe arrival and come home.
They have a side view of all tasks according to the dashboard. Truck Dispatchers may effectively and positively affect each credit balance, from "Unassigned" to "Delivered" or "Cancelled" and anything in between, using the Load Board.
2. Operational Improvements
This Stack Management component is where you can create and allocate workloads to drivers and driver settlement all in one place. Whenever a cargo is loaded, it appears on the Loading Panel, where you can easily control all of the important info you need and follow its progress at any time along the journey.
Drivers may now scan and submit papers through their mobile phones, making review checks even simpler. Choose a time frame to view the maintenance call history, which includes information such as the shipment number, and the amount and kind of hours.
3. See a Realtime Map
The upgraded procedure displays the exact path each operator is on in real time, with a comprehensive map view. This allows you to see whether the journey is on time or behind a deadline at a glance. View mileage data and have access to all the information you might need.
4. Documents Scan And Image processing
Files may be examined and submitted in seconds using the HorizonGO app, anywhere and at any time. There will be no more prolonged and inconvenient delays to utilize scanning from the older years.
These chores may be completed without the need for drivers or anybody in the profession to exit their vehicles.
5. Agreements with drivers
Do you want to enhance driver recruitment and cost savings? Operators, transporters, and contract workers, as well as managers, may see how often a driver has made every particular trip at the moment. Modifications, such as increasing costs, may be made in a matter of seconds.
6. Compatibility
HorizonGO readily interacts with third-party payroll systems and other dispatch management software.
7. Pricing
You can get a free demo of this dispatching Software. It also has a truck dispatch app.
2. Connecteam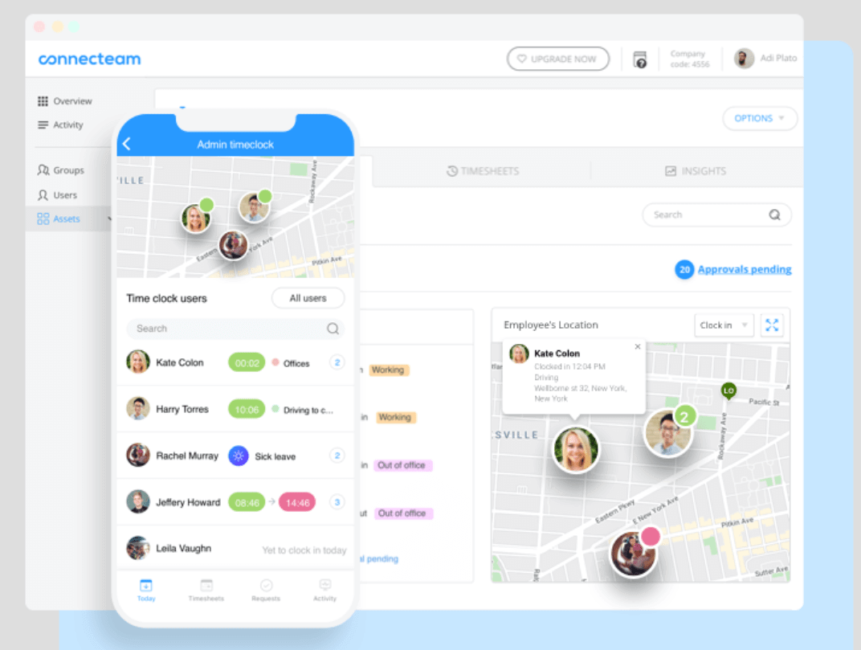 Connecteam is the mobile-first, all-in-one truck dispatcher software you've been waiting for. Whatever you need to handle your personnel successfully and take your company to the next level is all in one place.
Characteristics
Job Scheduling That Works
Provide important information such as timestamps, destinations, and necessary information when assigning routes depending on various criteria. Planned shifts, repeated shifts, and open shifts are all possibilities.
Notify users and alert drivers, and be alerted when they accept or decline a task, arrive late, or finish their obligations.
GPS & Mobile-First Empowered
Your staff may clock in and out using their smartphones thanks to accurate time monitoring. A real-time GPS position is tagged whenever an employee logs in and exits.
Reports may be sent and received in actual time. 
With the best truck dispatch software, streamline monitoring from the field to the office by enabling actual data to be provided on the fly, such as truck maintenance requests, safety checks, and much more.
Communication should be simplified.
Advanced communication capabilities such as group chats and routes, real-time push alerts, secret discussions, worker directories, and more make logistical and operational communication, engaging updates, announcements, and more simple.
Task Management Made Simple
Assign each activity to your truckers, such as permit applications and yearly car inspections, and include built-in reminders so they can do them. As tasks are done, you'll immediately receive updates in real-time.
Documents for 'Read and Sign' Compliant
Using digital read and sign documents, such as an employee manual, unified contract, operating hours rule, drill processes, and so on, ensure that all drivers are legal.
Workplace Improvements and Driver Security
Assure that company drivers have immediate access to critical security data and knowledge, safety protocols, continuing education, and proper safety monitoring.
New hires and existing drivers should be onboarded and trained.
Onboard and train your drivers in a timely and effective manner. As tasks are accomplished, create organized customer experiences with review and signing forms, quizzes, videos, PDFs, and more.
Pricing
For the first 50 users, the basic plan is $39 per month.
For the first 50 users, the advanced plan is $79 per month.
First 50 users, the Expert plan is $159 per month.
For further information please visit a website.
3. Onfleet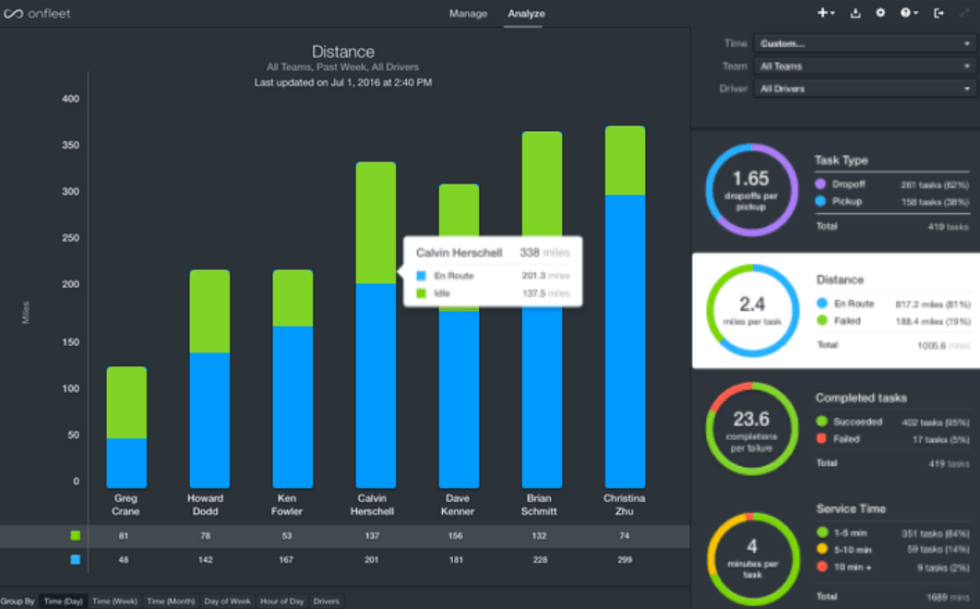 Improve operation, seamlessly connect Onfleet (web, mobile app, online ordering system, ERP, or inventory system), and provide superior customer experience with Onfleet's automated SMS notifications and feedback gathering capabilities. Onfleet is ideal for multi-national couriers, retailers, and distributors of on-demand delivery firms.Furthermore, Onfleet is a pioneer during the last transportation of businesses in a variety of businesses, including catering services, retail, e-commerce, healthcare, and much more."Centralize routing and dispatch activities in one easy online interface" has never been easier.
Features
Real-time Fleet Tracking with Automated Dispatch
SMS Notifications on Demand
Integrations with a variety of different tools.
Pricing
Basic – $349/month Starter – $149/month
Premium (monthly fee of $799)
$1,999/month for professionals
4. Pro Transport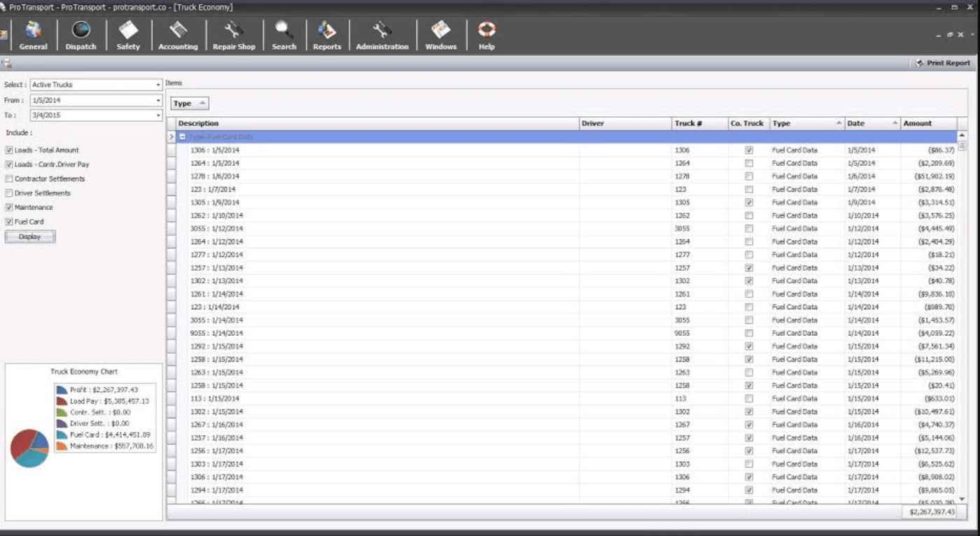 Pro transport enables customers to consolidate their ship's services into a single, simple system, allowing you to save time, accurately manage progress, and create better decisions.
It also combines all areas of your shipping operation into one trucking Management system, making everything, including security, scheduling, finance, monitoring, employee contacts, and GPS tracking, conveniently available.
ProTransport is also user-friendly, adaptable, and built for any number of ships, with over a year of expertise.
Characteristics
Capabilities in Accounting
Safety and Maintenance Pricing for Dispatch with GPS Data
Furthermore, contact a representative.
Pricing
For further information, please visit a website.
5. Axon Trucking software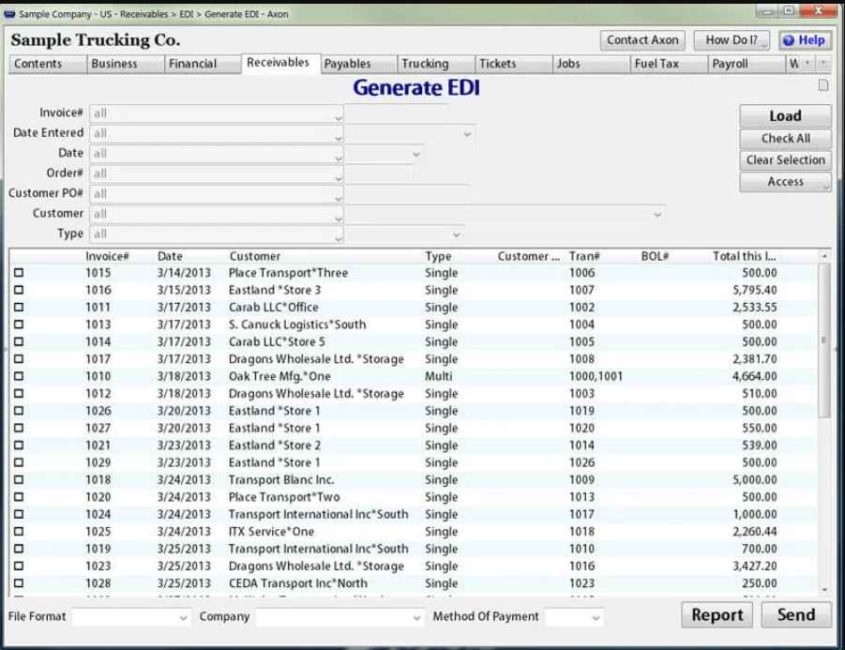 Axon Trucking Software dispatch can help customers that are boatload shippers, petroleum, car, farm, and massive transporters. Since 1982, Axon Trucking has streamlined accounting, dispatch, maintenance, transportation management, fleet maintenance, ticket software, and IFTA reporting at its headquarters in Meeker.
Its integration procedure is also without hiccups. Using a mobile app, you may also stay in touch with all of your staff. Everything is immediately loaded into the platform since information is gathered in real-time, and you get a quick update on your dispatch trucking software for dispatching trucks.
Characteristics
Accounting and Invoicing for Transportation Management
Pricing for IFTA and Tax Fuel Fleet Maintenance
Start a personalized demo with a representative to learn more about pricing.
Pricing
For further information, please visit a website.
6. Member of the establishment and McLeod LoadMaster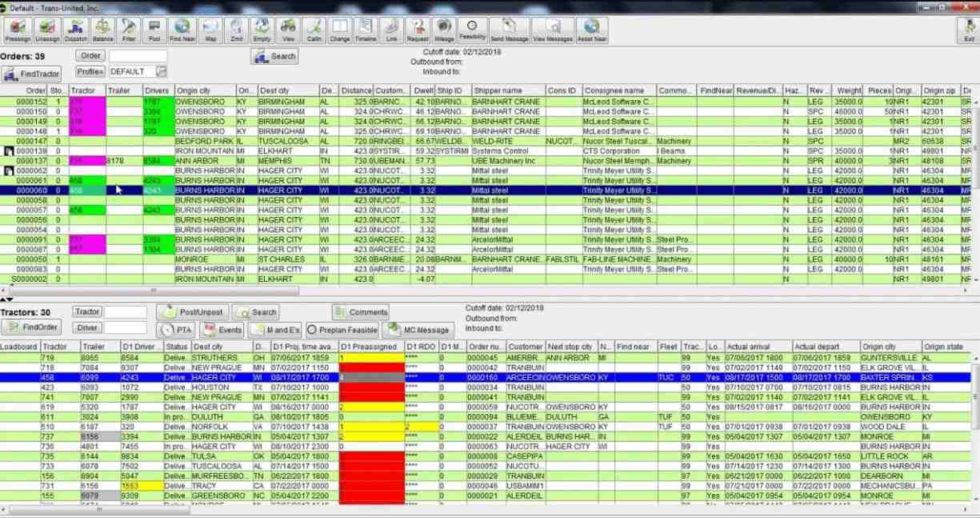 Since 1985, McLeod has provided shipping firms, third-party services, shipping firms, freight transporters, and fleets with the LoadMaster truck dispatch system and PowerBroker. In the logistics sector, it now has roughly a thousand active members.
McLeod's services may also be combined by using products to manage documentation and imaging data, automate corporate operations, improve brand awareness and customer services, and manage and measure fleet efficiency.
7. Trucking Office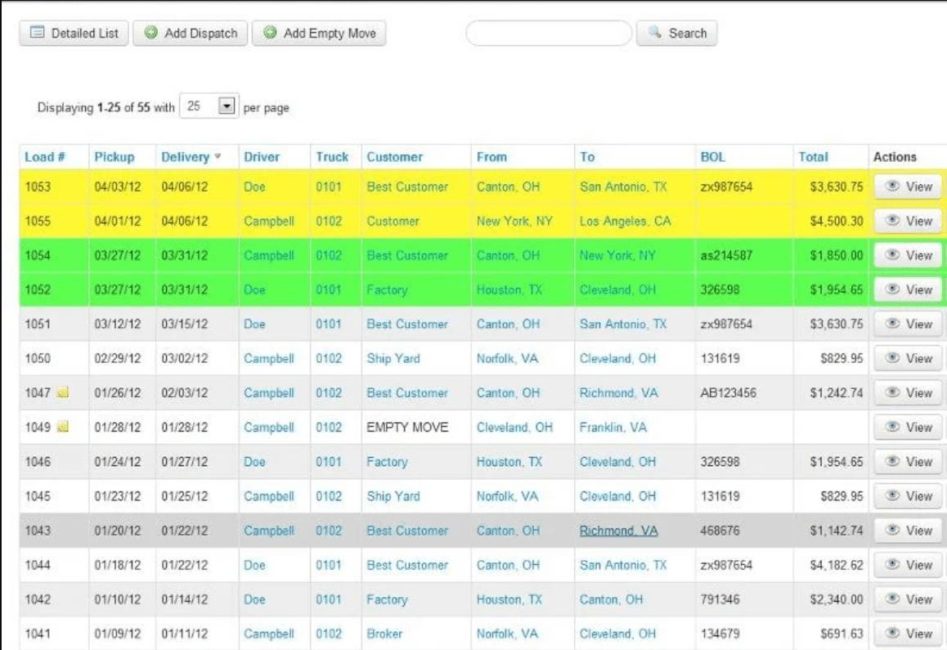 TruckingOffice is the solution for finance, scheduling, truck scheduling software, service, documentation, and Gps tracking monitoring. Small freight and owner-operators, shareholders, and cargo agents can benefit from TruckingOffice.
Furthermore, obtain data on how a driver loads, keep track of services and expenditures, and use advanced network information to convey information to the driver, allocate multiple vehicles to a route. These services offered in each contract may vary based on which ones you select, so be sure you bring the ones that will serve your company and employees the most.
Characteristics
Monitoring of Invoices
Make Financial Documents and Revenue Per Mile Calculations (IFTA Reporting)
Skills for complete dispatch
8. Trimble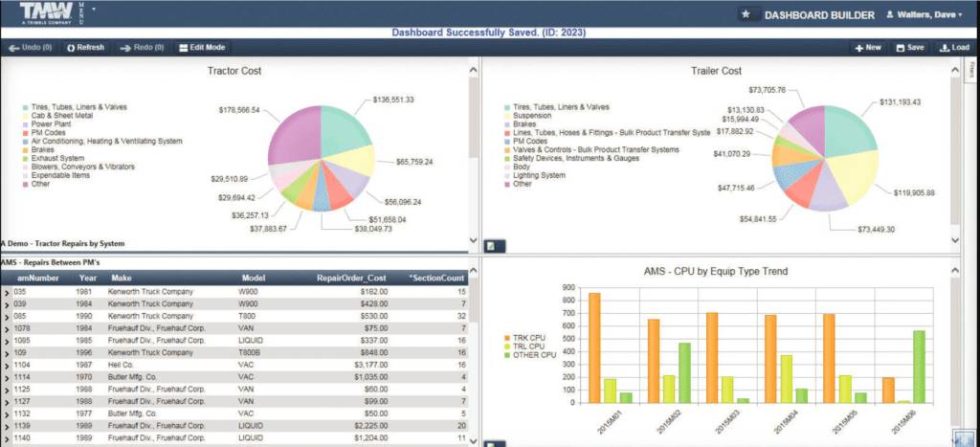 Boatload operators, cargo traders, corporate companies, industrial companies, waste disposal, fully prepared, and development all benefit from Trimble TMW Systems.
TMW was established in 1983 and specializes in logistics information systems and applications for dispatch, fleet management, and finance.
Characteristics
Servicing
Compliant and Security
Efficiency and Scheduling
Freight Forwarding
Price
Inquire regarding price with a specialist.
Common aspects of Transportation Software
Dispatch and scheduling are two Monitors driver logs, schedules shipments, and maintains other information as part of important back-office activities.
Therefore It automatically determines the most effective ways for multi-stop drivers, frequently modifying in actual time to account for accidents, construction, and poor weather.
GPS tracking provides the head office with actual reports on a driver's physical whereabouts.
Asset management helps customers keep track of their physical assets, such as vehicles, beds, components, and equipment.
Fleet maintenance aids in the tracking and scheduling of fleet maintenance for a business. It may be set up to alert the back office when a truck needs to be serviced regularly.
Compliance monitoring aids in the observation of driver habits such as driving duration, speed, and stop frequency. It can also aid in the tracking of driver medical testing.
Are You a Buyer of a Certain Kind?
There are buyers for transportation management software and freight dispatcher packages, in our experience:
Logistics are provided by a third party (3PL). Companies that dispatch freight for other companies typically require software suites that include all or most of the apps and services described above. Route mapping and cargo management software is often more sophisticated for 3PL firms that specialize in LTL shipment. If they maintain warehouses in addition to their fleet, larger 3PL organizations often require a more sophisticated transportation management and/or warehouse management suite.
Fleets are owned by individuals. Companies that do not contract their transport require a different approach than 3PL companies. You might want to look at a business suite that was more focused on the firm's business than on trucks and dispatching (but still includes trucking management capabilities).
Understanding Market Trends
These are the characteristics that influence to be aware of while considering trucking dispatch software. When evaluating trucking software reviews, you should be aware of the following trends:
However, Legislative adherence is. The national government imposed harsher controls on the trucking sector in recent years, ranging from limiting the number of hours truck drivers may work on the highways to raising the number of drug tests they must undergo each year.
With trucking firms, compliance with these rules is crucial, so potential purchasers must guarantee that the software they choose will help them remain on top of them as well.
The intellectual ability for business. Sophisticated data analysis that discovers cost savings depending on previous data is becoming increasingly common in transportation software applications. Commercial fleets, for example, might utilize these capabilities to consolidate deliveries and decrease "fewer" miles, lowering the number of visits their drivers drive.
Frequently Asked Question
What is the best trucking dispatching software?
The best trucking dispatching software varies depending on the needs and preferences of the company. Some popular options include HorizonGO, KeepTruckin, Omnitracs, McLeod Software, and PeopleNet.
What is the best dispatching software for trucking?
The best freight dispatching software for trucking also varies depending on the needs and preferences of the company. It's important to research and compares different options before making a decision.
What is Fleet dispatch software?
Fleet Dispatch software is a tool that helps logistics and transportation companies plan, schedule, and track the movement of vehicles and drivers.
How to start a dispatch business?
To start a dispatch business, it is important to research the industry and understand the needs of your target market. You will also need to acquire the necessary licenses and permits and invest in TMS dispatch software and other logistics technologies.
How to start trucking dispatch?
To start a trucking dispatch, you will need to follow these steps:
Research the industry
Acquire necessary licenses and permits
Create a business plan
Invest in dispatch software
Build a network of trucking companies
Hire experienced dispatch staff
Develop a marketing strategy
Continuously monitor and improve
Dispatch is the process of planning, scheduling, and tracking the movement of vehicles and drivers in the logistics and transportation industries.
How much does a tms system cost?
The cost of a TMS system varies depending on the features and capabilities of the software. Some companies offer a free trial or a basic plan with limited features, while others offer more advanced plans with additional features and capabilities.
How does dispatch work in trucking?
Dispatch works in trucking by optimizing route planning and scheduling to ensure that vehicles and drivers are dispatched to the right location at the right time. Dispatch software also provides real-time tracking and monitoring capabilities, allowing companies to track the location of their vehicles and drivers in real-time.