✅Quick Answer
For a certified dispatcher, you should first complete the dispatcher's course through online or physical classes. After successful completion, you will get a certificate.
In this article, You will learn about how to get certified courses and training and how much do dispatchers make?
How Do I Become A Certified Truck Dispatcher
Are you thinking of becoming a certified truck dispatcher but don't know where to start? A dispatcher's Job is vital in the trucking industry today since it provides a path for success and career advancement in the energetic business environment.
Usually, you'll need to finish a thorough truck dispatcher course to become certified. These courses are offered both in physical and online classes. 
You will receive a certificate after confirming your proficiency in truck dispatching successfully. To be an excellent dispatcher, one must possess great communication skills and reliability.
In this article, you will get a comprehensive guide about" How do I become a certified truck dispatcher" and the necessary steps for a successful career in the dispatch industry.
You may read the related article:
You may read the related article: How do I become a truck dispatcher
Dispatchers Truck Training
In truck dispatching, training is an essenFtial part of any course; through these practical processes, dispatchers learn technical understanding and practical knowledge of transportation. In this training, expertise gives the ability to handle the truck in a standard or complex situation.
Several dispatcher companies offer training programs, both online and physical classes, including Max trucker dispatcher company. This company provides online or physical courses according to customer preferences.
Skills To Be Successful As A Truck Dispatcher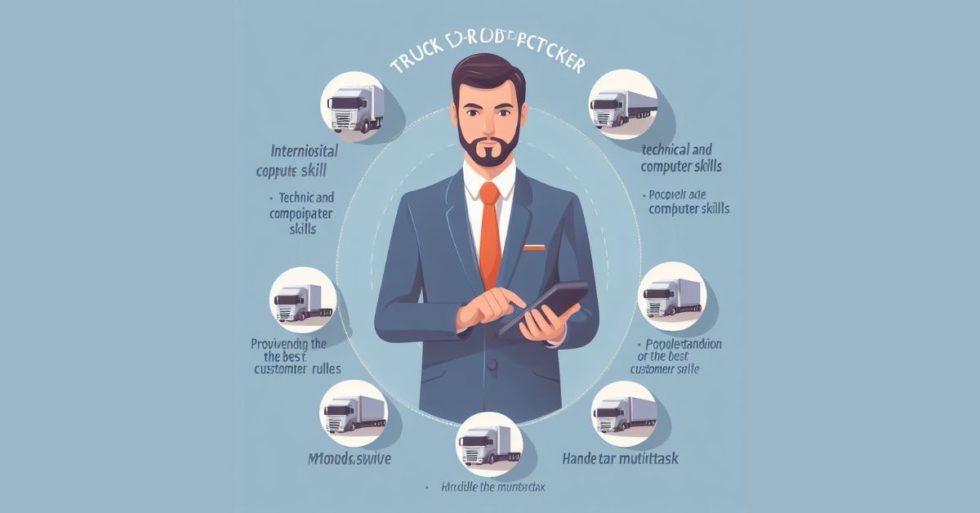 Skills matter a lot for a successful business; as a dispatcher, you need good command skills, such as negotiating with the brokers to pay high or low.
The dispatchers make decisions confidently. You will handle all the calls and give responses back to clients on time. It would help if you had the skills and traits for a successful or excellent truck dispatcher. 
Good Negotiation Command
Proper understanding of traffic rules
Provide the Best customer services
Handle the multitask
Analytic and Problem-Solving Skills
Interpersonal Skills
Technical and Computer skill
Attention to detail
All these skills are necessary to succeed as a truck dispatcher. So, we discussed a few skills most needed for becoming a successful dispatcher. 
You may read the relatable content: Trucking dispatch software
Interpersonal Skill
Good Communication and interpersonal skills are necessary because you are an active listener. A good dispatcher handles the calls and responds to their question within time.
Technical and Computer Skills
You must know about handling technical and computer skills in this modern world. A good dispatcher must understand MS Microsoft and MS Excel for data entry. These things must be required when doing a job with any company.
Attention To Detail 
A good dispatcher is needed to be an active listener, which helps to handle multitasking in every situation. This trait helps to drive trucks under challenging conditions.
Analytical and Problem Solving Skills
Problem-solving is one skill which helps to lead in every task. For this business, you need an analytic mindset and decision-making power. After dispatch training, you will ensure how analytical skill helps under challenging situations.
Good Negotiation Command
Good communication skills empower the dispatchers to secure their target rate with brokers. Effective Communication helps to reach satisfactory arguments with the customer.
Proper Understanding of Traffic Rules
A proper understanding of traffic rules is essential for any inconvenience. You have the best knowledge of routes and traffic signals. Before dispatching a truck from out of state, you must understand the terms and conditions of the state where you want to deliver the car.
Provide the Best customer service.
Exceptional customer service qualities include kindness, quick problem-solving, and active listening. You may establish enduring relationships and enhance your company's reputation by learning about your clients' demands.
Handle the multitask
Effective time management, organisation, and task prioritisation are all necessary for multitasking. It's the skill of managing multiple responsibilities without compromising quality.
Trucking Dispatcher Salary
Let's uncover the answer to your suspicious question how much do dispatchers make? This chapter will tell you about their salaries by considering different aspects. So, let's clarify the answer to your question. 
A dispatcher's average rate falls to $44,742 and $60,317 annually in the USA. Dispatchers' salary depends upon various elements such as Location, experience, and time. The highest rate of Dispatchers may earn $24,000 and $52,000 yearly in the United States. 
The wages of dispatchers vary; some charge a flat rate, and high-quality dispatch charge 7-10 percent extra for each shipment due to extra care or earlier shipping. Every dispatcher charges a different fee.
Why Should You Make Your Career as a Truck Dispatcher?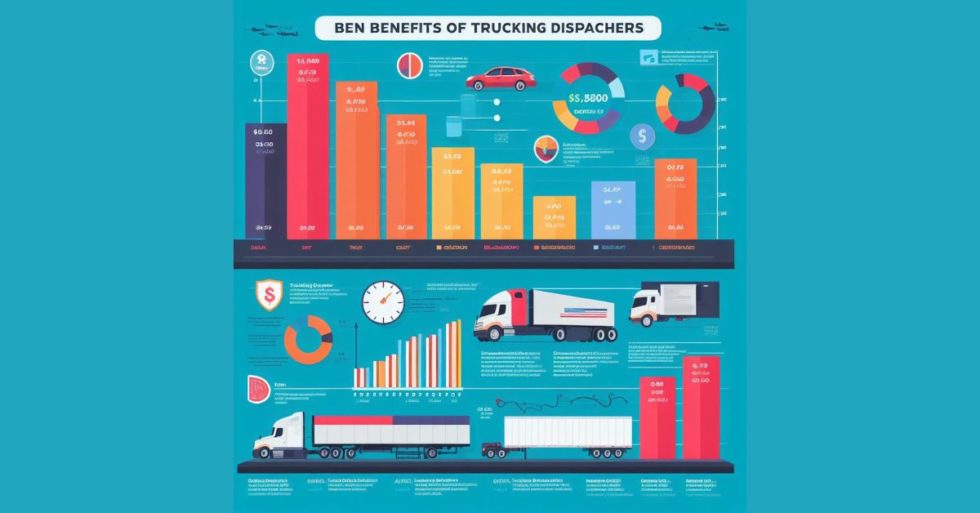 If you want to become a successful trucking businessman, choose your career as a dispatcher. This career has a lot of opportunities for both earning and learning.
Providing services according to customers' requirements gives you extra incentives as a reward. There is no limit to earning as a good dispatcher. We will discuss a few essential steps for becoming a good dispatcher.
Passion of Truck Dispatching
Passion is one of the things which motivates you for your work. Truck dispatchers are driven by a passion for overcoming obstacles daily and guaranteeing that cargo arrives safely. Regular tasks become exciting road trips due to their dedication.
Financial Incentives
Financial incentives offer additional motivation for achievement and intelligent financial decision-making, such as tax benefits, investments, and bonuses. They hold the secret for enhanced economic prospects.
Remote Work Setting 
Working remotely gives independence, flexibility, and the opportunity to escape the 9–5 office routine. It's more than just a fad.
You can reach new productivity levels, lessen the stress of travelling, and discover a work-life balance that works for you from the comfort of your place.
FAQs
How to become a truck dispatcher from home?
Enrol yourself in online dispatcher training to work remotely and submit necessary documents for pursuing jobs in truck dispatching from home.
How long does it take to become a truck dispatcher?
Although the time necessary to become a truck dispatcher varies, it usually takes a few weeks to several months to finish a training program and acquire the required abilities.
How to dispatch trucks from home?
To dispatch trucks from home, set up a home office, get the necessary software, find customers, or collaborate with a trucking company that provides remote dispatching positions.
How to be a successful trucking dispatcher?
Develop strong communication skills, diligent attention to detail, and a thorough understanding of logistics to succeed as a shipping dispatcher. For effective operations, cultivate connections with drivers, carriers, and clients.
How to become a truck dispatcher with no experience?
To obtain the necessary expertise, begin as a dispatcher assistant or look for entry-level positions. Consider signing up for a dispatcher training course to learn the basics and improve your credentials
Wrap Up
When it comes to knowing ''How I Become a Certificat Truck Dispatcher' for it, you need practical training. Dispatcher companies are an open-door opportunity for truck drivers. But, for starting a successful business, you need a verified certificate. And also command essential skills.
This Job offers an excellent average range of salaries, which helps financial stability. So, if you perform all responsibilities passionately and enjoy a problem-solving career, you lead towards a successful dispatching career.