✅Quick Answer
Trucking is a vital part of the transportation industry and is crucial in keeping the economy moving. However, managing a fleet of trucks can be complex and challenging. Many companies are turning to truck tracking software to help them stay organized and improve their operations.
Top Best Trucking Tracking Softwares
In this article, we will take a look at some of the top trucking tracking software available in 2023. We will be comparing the different features and capabilities of each software to help you find the best solution for your business.
1. HorizonGO
HorizonGO is a comprehensive trucking tracking software that offers a wide range of features to help companies manage their fleets more effectively. Keep trucking software helps fleet managers keep their trucks on the road and their drivers safe.
This is the best trucking software that provides real-time tracking and monitoring of vehicles, allowing dispatchers to quickly reroute trucks if there are delays or traffic issues. It also allows managers to monitor the progress of shipments and ensure that they are delivered on time.
One of the standout features of HorizonGO is its driver behavior monitoring capabilities. This top trucking software can track speed, braking, and idling time and help managers identify areas where drivers can improve their performance. This can lead to safer driving practices, fewer accidents, and lower insurance costs.
In addition to these features, HorizonGO offers various tools to help companies improve their customer service. With real-time tracking information, companies can provide their customers with up-to-date delivery times and status updates. This can lead to increased customer satisfaction and loyalty.
Other features of HorizonGO include:
Customizable dashboards and reports
Electronic logging device (ELD) compliance
Fuel tracking and reporting
Best Dispatch App for drivers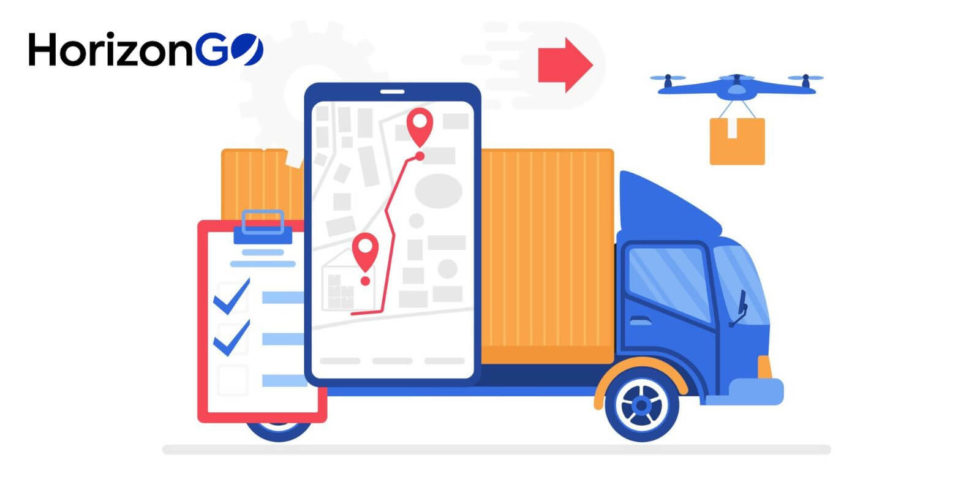 2. Omnitracs XRS
Omnitracs XRS is a cloud-based trucking tracking software platform for fleet management and optimization. It provides tools and solutions to help fleet operators and managers improve efficiency, safety, and compliance.
Omnitracs XRS fleet management software is a platform that provides a variety of tools and features to help fleets of all sizes improve their efficiency, compliance, and safety. The platform is designed to help businesses manage their fleet operations, reduce costs, and increase productivity.
Features of Omnitracs XRS include:
Vehicle tracking: Real-time location tracking and reporting of vehicles, trailers, and drivers to optimize the dispatch and reduce downtime.
Electronic Logging Device (ELD) compliance: Helps drivers and fleets comply with ELD regulations and provides real-time compliance monitoring and reporting.
Mobile workforce management: Allows drivers and technicians to access and manage tasks, dispatch, and communications from their mobile devices.
Fuel optimization: Optimizes routes and reduces fuel consumption to lower operating costs.
Safety and compliance: Helps ensure compliance with industry regulations and promotes safe driving practices.
Analytics and reporting: Provides real-time data and reporting to help businesses make informed decisions and improve fleet operations.
Maintenance management: Helps manage vehicle maintenance, schedules, and costs.
Load management: Allows businesses to track and manage shipments, loads, and capacity in real time.
Omnitracs XRS offers a comprehensive fleet management and optimization solution. It is an attractive choice for businesses looking to streamline their operations and improve their bottom line.
3. Fleetmatics REVEAL
Fleetmatics REVEAL is a cloud-based trucking tracking software for fleets that provides real-time visibility and insights into fleet operations. It helps fleet managers and business owners to improve fleet efficiency, reduce operating costs, and enhance safety and compliance.
Here are some key features of Fleetmatics REVEAL:
GPS Tracking: Provides real-time visibility of vehicle locations, speed, and movements.
Route Optimization: Helps to optimize routes, reduce fuel consumption and minimize downtime.
Vehicle Maintenance: Allows tracking of vehicle maintenance schedules, alerts, and repairs.
Driver Behavior: Provides insight into driver behavior, including speeding, harsh braking, and idling.
Fuel Management: Tracks fuel consumption and identify areas for improvement.
Compliance Monitoring: Helps to monitor compliance with government regulations and company policies.
Mobile dispatch App: Provides real-time access to fleet information and insights through a mobile app.
Custom Reports: Generates customizable reports for fleet management analysis and decision-making.
Integration: Fleetmatics REVEAL integrates with other business systems, such as accounting and payroll.
Customer Support: Offers 24/7 customer support and onboarding assistance.
4. GPS Trackit
GPS Trackit is a trucking tracking software and fleet management solution for businesses. It provides real-time vehicle tracking. Route optimization and driver behavior analysis help companies increase efficiency, reduce costs, and improve safety.
Features of GPS Trackit include:
Real-time GPS tracking: Companies can monitor the locations of their vehicles in real-time with this tracking system.
Route Optimization: The solution provides route optimization and geofencing capabilities. This helps companies to optimize their routes and ensure their vehicles stay on track.
Driver behavior analysis: GPS Trackit provides driver behavior analysis tools. These tools allow companies to monitor their drivers' speed, acceleration, and braking patterns. This helps them to identify areas where they can improve their driving habits and reduce fuel consumption.
Fuel consumption monitoring: The solution provides real-time monitoring and reporting. Companies can use this to monitor fuel usage, reduce fuel costs, and identify fuel-wasting driving habits.
Historical reporting: GPS Trackit provides comprehensive reporting capabilities, allowing companies to analyze and track vehicle data over time.
Mobile dispatch App: This app provides real-time GPS tracking and alerts. It enables companies to monitor their vehicles and drivers from anywhere.
Integration with other systems: GPS Trackit integrates with other platforms and systems, such as accounting and payroll systems. This integration enables companies to streamline their operations and improve their workflow.
5. KeepTruckin
KeepTruckin is a trucking tracking software and fleet management designed for the transportation industry. It provides businesses with real-time visibility and insight into their fleet operations through its web-based platform and mobile dispatch app. Some of its key features include:
GPS Tracking: KeepTruckin uses GPS technology to track vehicles, giving fleet managers real-time visibility into their fleet's location and movements.
Electronic Logging Devices (ELD): KeepTruckin provides a fully compliant ELD solution to help trucking companies meet the mandate.
Dispatch and Routing: KeepTruckin's dispatch and routing feature helps fleet managers plan, optimize and assign routes to their drivers. It also provides real-time updates on driver status, delivery times, and more.
Vehicle Maintenance: KeepTruckin's maintenance tracking feature helps fleet managers keep track of vehicle maintenance schedules, service history, and alerts.
Driver Safety: KeepTruckin's driver safety features include speed monitoring, harsh braking, acceleration, and distracted driving alerts. These features help fleets promote safe driving practices.
Reporting and Analytics: KeepTruckin provides real-time reports and analytics to help fleets make data-driven decisions. This includes fuel usage reports, idling reports, and more.
Mobile dispatch App: This app allows drivers to log their service hours, view delivery information, and communicate with dispatch.
Overall, KeepTruckin is a comprehensive fleet management solution that helps transportation businesses improve efficiency, safety, and compliance.
Frequently Asked Question
What is a truck driver tracking app, and how does it work?
A truck driver tracking app is a software tool that allows trucking companies and drivers to monitor the location and activities of their trucks. It typically uses GPS technology to provide real-time information about a truck's position, route, and other relevant data.
What are the advantages of using a top trucking ELD (Electronic Logging Device)?
A top trucking ELD helps trucking companies and drivers maintain accurate electronic logs of their driving hours and compliance with Hours of Service (HOS) regulations. It also improves efficiency, reduces paperwork, and enhances safety.
How do I choose the top tracking system ELD for my trucking business?
To select the best tracking system ELD, consider factors such as your specific business needs, budget, compliance requirements, ease of use, customer support, and the reputation of the ELD provider.
What are the key features to look for in trucking GPS software?
When evaluating trucking GPS software, focus on features like real-time tracking, route optimization, traffic updates, geofencing, and integration with ELD systems. These features can enhance productivity and safety.
How can trucking safety software improve the safety of my fleet?
Trucking safety software can enhance safety by providing tools for monitoring driver behavior, conducting safety training, tracking vehicle maintenance, and ensuring compliance with safety regulations. It helps prevent accidents and protect your drivers.
Conclusion
In conclusion, trucking tracking software is essential for transportation companies looking to improve their operations, increase efficiency, and reduce costs. "The software" can help managers track the location of vehicles in real-time. They can also monitor and analyze driver behavior and improve customer service.
Out of the options mentioned above, HorizonGO is currently the best trucking tracking software. Its comprehensive features and excellent driver behavior monitoring capabilities will help companies streamline their operations. This will assist them in staying competitive in the ever-changing transportation industry.