Shipping is a huge multinational industry; however, it's no surprise that firms want effective shipping solutions. In reality, many medium businesses (>=1000 monthly shipments) use two to five distinct shippers for cross-country transportation, which can be challenging to follow in real-time! This is why, to give the most excellent monitoring solutions to its clients, any firm worth its salt should collaborate with a shipment/courier/logistics tracking software.
The most successful firms recognize that customer service does not end once a transaction is completed. There are several possibilities to delight and engage consumers throughout the delivery process with each particular cargo. It starts with the high-quality shipment, courier, or general logistics system tracking.
The logistics business has evolved tremendously over the last four decades, from a few scattered delivery locations to the world's very thriving courier system. Courier/logistics/Shipment tracking software and solutions have played a significant role in this. There's a reasonable probability that the transport sector would still be locked in the disco era if it weren't for technology.
What is shipping, courier, or Shipment Tracking Software, and how does it work?
Shipping tracking software is a web-based or virtualized platform that helps retailers manage their shipments. This shipment tracking application simplifies activities and allows for speedier product delivery. This implies that traditionally strenuous manual activities can now be completed fast with AI, APIs, and other tech-driven shipping solutions.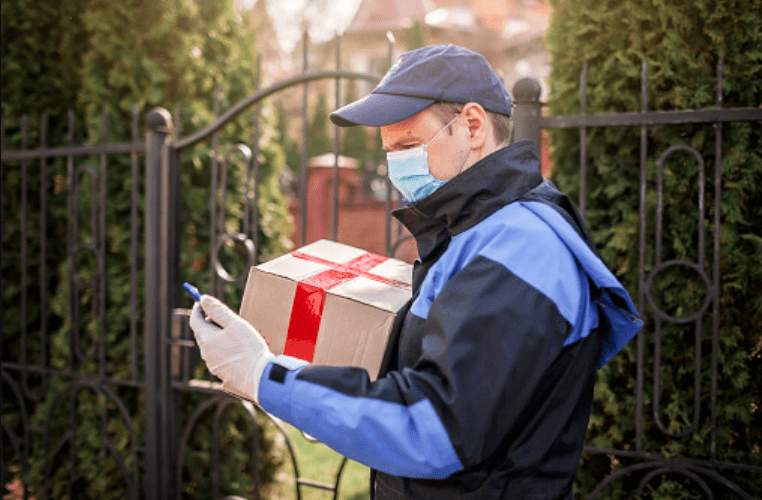 Best way Shipping Tracking/Logistics/Courier or Shipment Tracking Software for Companies
Shipping software has been at the forefront of several shipping tracker apps to help you organize and monitor an ever-increasing number of orders. Current shipping methods will no longer suffice as firms expand. Each medium or big business tracking will require shipping tracking software to ensure operations run effectively. Choosing the finest shipping monitoring software for your company, on the other hand, is no simple task. It relies entirely on the solutions they supply in its field of activity through its software. Based on the features of their products, we've reduced the queue of Top Best shipping management software to those mentioned here, based on reviews and information from prominent organizations.
1) HorizonGO:
HorizonGo is a customizable, cloud-based trucking dispatching software that gives you real-time access remotely, to your customers, drivers, and equipment anytime, anywhere. 
HorizonGO readily interacts with third-party accounting software and other fleet management applications. They're keeping track of your trucks and need to stay in contact with their drivers and help guide them. HorizonGo tracks the fleet by the app installed in the driver's device and it is also considered the best Shipment tracking software.
ClickPost is the fastest production multi-carrier integration technology, allowing for unified monitoring, customer interaction, logistic problem handling, and returns processing. Their primary focus is on improving operational efficiency, improving customer service during the post-purchase journey, and providing businesses with the flexibility and efficiency they need to expand without worrying about multi-carrier order management, regardless of order volume.
Characteristic:
ClickPost is compatible with over 150 prominent shipping companies and increased online platforms like Magento, WooCommerce, and Shopify.
They allow firms to materialize products, produce waybill tracking, and dispatch orders to grab a single click using a single API.
A term vision allows us to track and handle all of our orders. 
They employ numerous APIs to get basic information from courier partners and provide consumers access to a customized tracking website to keep TrackTrack of every milestone.
Their NDR strategic plan, which optimizes contacting consumers after unsuccessful delivery attempts and actively minimizes RTOs, is one of their most innovative features.
They also make it simple for companies to handle returns utilizing ClickPost's backend, which allows you to trace and reverse journeys with the same level of precision.
Pros:
ClickPost has a variety of capabilities, such as NDR management for reducing RTOs and returns management for reducing losses during reverse logistics. It guarantees that predicted delivery dates are accurate and allows clients to receive real-time tracking information. 
Cons:
ClickPost is not for the purpose to handle huge orders. As a result, it is only appropriate for a small number of small and medium-sized organizations.
Shippo is a California company providing a delivery management system to courier company suppliers. It was founded in 2013. They are primarily active in the United States, handling certain overseas exports and worldwide requirements.
Characteristic:
Shippo's software handles the generation and production of shipping labels and the preparation of packing slips for each shipment.
They additionally offer a tracking website where businesses and customers can get real-time information on each order.
Accordingly, customers immediately receive a shipping notification email and a delivery alert email to ease communication throughout the first and last delivery phases.
Shippo, being a worldwide solution, also aids in the removal of barriers to foreign trade.
Pros:
The validation checks in Shippo limit the chance of inaccurate or unsuccessful delivery. This program is well-known for its ease of use, quick customer service, and low price.
Cons:
While Shippo is simple to use once installed, the installation might take longer. It also has a limited amount of customized choices and specialist services. 
Aftership is a Hong Kong-based SaaS (Software-as-a-Service) firm that operates internationally. They presently service over 10,000 online merchants from all over the world.
Characteristic:
Through their customized monitoring page on your site, Aftership can offer clients updates at various delivery stages.
Their primary offering is integrating e-commerce firms with the best all-in-one package tracking app to monitor automatic shipment.
They can give long-term statistics on transportation company reliability since they provide real-time tracking.
They work with over 600 shipping firms worldwide and the most significant marketplaces, including Shopify, eBay, and Magento.
Pros:
Aftership is simple to set up and integrates quickly with shipping firms, sales platforms, and forums.
Cons:
Aftership is best for a small company; more prominent organizations may have delays or erroneous order tracking statuses. Many people also complained about inadequate customer service.
ShipStation is a worldwide shipping and transaction management platform primarily used in Europe, Australia, and North America. It offers a variety of payment options based on the services required and the monthly amount of shipments handled.  
Characteristic:
Shipstation is compatible with various selling platforms, including Squarespace, Shopify, and online marketplaces like Walmart and Etsy.
It has partnerships with organizations like QuickBooks, assisting e-commerce enterprises with financial and tax-related issues.
Customize Labeling, packaging, and branding are also available.
This software may also help with inventory management by generating frequent stock reports.
Pros:
ShipStation is a user-friendly platform that is easy to handle. It makes integrating with selling networks and shipping partners rapid and straightforward.
Cons:
Shipstation is another software that small and medium-sized firms mainly utilize with modest order quantities. It's also recognized for having a restricted feature set and inadequate customer assistance.
MetaPack is a London-based firm that provides metropolitan, national, and international e-commerce brands with information distribution management services. They work with over 400 shipping partners who offer a wide range of courier services to business customers.
Characteristic:
Delivery service, worldwide delivery, and access to 350000+ storage facilities for pickup and drop-off are just a few of the options Metapack offers.
This is in addition to its primary purpose of providing real-time tracking information for all purchases across numerous delivery partners.
They also aid with order management by creating shipping labels (both forward and reverse logistics) and customs documents.
Pros:
MetaPack is one of Europe's most efficient shipping software, with a wide range of features and freight alternatives.
Cons:
In the United States and Asia, Megapack has limited carrier selection and pin code support. It mainly caters to small and medium-sized businesses and provides little customer care.
One step away to book your free demo
Narvar's journey toward logistics began in 2012, and the company is based in San Mateo, California. Their present clientele consists of over 800 worldwide businesses from 38 multiple nations.
Characteristic:
Another component of Narvar's offering is the Concierge service that enables customers to grab shipments or drop off returns at one of Narvar's Concierge centers near them.
Pros:
Narvar's tracking system ensures that estimated delivery dates are accurate and that customers receive real-time order updates, resulting in a better customer experience.
Cons:
Concierge center accessibility is solely contingent on which shipping partner is utilized for that particular transaction. Narvar also allows for industry-specific customizations and highly personalized interaction.
ShippyPro is a newcomer to the logistics business, having recently entered the market in 2017. Their goal is to save organizations time and effort by automating operations, including order generation, data entry, order tracking, and customer notification. They employ technology to improve these procedures and speed up delivery.
Characteristic:
This startup from Italy has developed a platform that automates shipping solutions such as making mailing labels, providing customers tracking updates, and handling return requests.
They're compatible with over 20 different online marketplaces, including Shopify, Amazon, Magento, and WooCommerce.
They also work with over 130 different carriers.
Pros:
ShippyPro is famous across e-commerce businesses since it is simple to use and provides efficient order-tracking solutions.
Cons:
ShippyPro might be costly for small enterprises because additional functionality may be charged. Customer help is only available via chat, making it difficult to correct serious system faults at times.
Shipwell was founded in 2016 in Austin, Texas, by two MIT grads committed to improving the connection between online merchants and online delivery businesses. The Shipwell shipping platform is designed to help businesses improve their supply chains as they develop.
Characteristic:
ShipWell assists carriers by bidding on freight and selecting their preferred shipments.
Shipping partners can utilize a proprietary matching algorithm developed by the load board to find and book the proper shipping loads for them.
Shipwell's technology automates previously manual processes such as order manifestation, shipping partner assignment, and even identifying the best route for safe and timely delivery.
Their tracking method has eliminated most blind areas during delivery to increase customer visibility.
Pros:
The ShipWell software has grown in popularity due to its simple onboarding process and ease of usage.
Cons:
ShipWell's interface and elements are typically not customizable. It is not a resource system, so it is tough to obtain alternative trucks in a truck breakdown.
Veeqo is a UK-based firm founded in 2013 by a man with extensive retail expertise. Veeqo, his invention, is a logistics and shipping platform for online enterprises with hundreds of ground commercial tracking systems. Veeqo's primary purpose is to assist online retailers in synchronizing stocks across numerous selling platforms such as Magento, Shopify, eBay, and Amazon.
Characteristic:
Veeqo, like some other shipment software solutions, utilizes a specific platform to monitor all shipments and provide real-time information and other delivery services.
It is well-created software that automates and simplifies stock evaluations of supply at inopportune times.
and data analysis operations, ensuring that businesses do not run out  
They aid in carefully monitoring stocks, making entire order management and delivery easier.
Pros:
Veeqo allows clients to assign specific product quantities to different locations, making pickup and delivery more convenient. It's simple to use and allows for two-way interaction across platforms.
Cons:
As inventories must be individually merged with multiple suppliers, many technical challenges develop. Its customer service is also in desperate need of progress.
FreightPop, a California-based firm, began in 2015 as a solution for its parent company's distribution issues and has now expanded to become a prominent transportation management software.
Characteristic:
 FreightPop negotiates shipping costs with over 300 shipping firms.
In addition to international freight, such as exports and imports, they handle all aspects of domestic cargo.
They also provide integrated auditing tools, allowing you to track rates, shipments, invoices, and any freight inconsistencies.
Pros:
FreightPop's interface with Warehouse Management Systems is simple. This increases the visibility of all transit and carriers, allowing imports to be correctly monitored.
Cons:
If you're a large firm with a lot of stock and many customers, onboarding and initial deployment of the FreightPop program can take a long time.
 It was launched in 2014. The purpose of this platform and the courier monitoring software is to make the complicated operations of e-commerce logistics easier to understand.
Characteristic:
 Parcellab allows for active and tailored consumer communication.
 It also has several web connections with marketplaces and storefronts.
 This courier monitoring program also aids in the analysis of statistical information. It guarantees that every order's complete life cycle is closely tracked.
Pros:
Parcellab has a reputation for offering excellent customer service during the onboarding process and when utilizing the program.
Cons:
Parcellab's software has a restricted set of functions that aren't ideal for large enterprises.
Easyship is a worldwide shipping software founded in Hong Kong in 2014 and offers high-end logistics services in more than 35 countries. Easyship is well-known for providing the most affordable shipping prices when using carriers such as UPS, USPS, and DHL.
Characteristic:
Easyship is linked with over 20 courier partners throughout the globe, allowing firms to take advantage of pre-negotiated cheap shipping costs with each.
 Businesses can choose the delivery option that best suits their needs in speed and cost.
 Businesses may use this excellent shipping software to connect with various fulfillment centers.
 It also assists with customs clearance form filling.
Pros:
Integrations are straightforward with Easyship, and e-commerce customers may take advantage of comparatively low courier prices.
Cons:
Easyship's functionalities do not address a wide range of potential courier difficulties.
WeSupplyLabs is a courier and shippers tracking platform that assists e-commerce firms in providing better order-tracking solutions to clients worldwide. It can manage order quantities ranging from 50 to 10,000 per month using various payment schemes.
Characteristic:
WesupplyLabs integrates easily with online shops such as Shopify and Squarespace.
Logistics service providers can have unique labels and packaging made for their business.
 It also allows for interaction with accounting software like QuickBooks, allowing for more efficient financial administration.
 Stock reports are issued regularly to ensure better inventory management.
Pros:
WeSupplyLabs is simple to set up, has a user-friendly layout, and allows speedy connection with courier partners.
Cons:
WeSupplyLabs has a restricted set of capabilities best suited to small and medium-sized enterprises. It's also noted for providing poor customer service.
ParcelPerform is a courier and cargo transportation software that assists e-commerce firms by delivering superior tracking capabilities that allow e-commerce customers to track their items online and get real-time status updates.
Characteristic:
Production and economics, courier dispatch, and shipment tracker were all handled using ParcelPerform's platform.
Its order-tracking technology provides clients with more insight by optimizing routes and detecting delivery faults.
A specialized load board matching algorithm facilitates the selection of courier partners.
Pros:
ParcelPerform's recruitment and connectivity processes are simple. Once installed, the platform is noted for its ease of use.
Cons:
ParcelPerform cannot manage potential delivery exceptions because it is not an asset-based system. The majority of features are also not adaptable to the needs of the business.
Convey is a customer experience management and all-in-one Shipment tracking software that automates the shipping workflow and offers multi-carrier shipping to e-commerce businesses worldwide.
Characteristic:
Convey is a program that controls a variety of shipping solutions, including the design and printing of shipping labels and packing slips.
Customers may see order statuses on a tracking website, and email alerts are sent automatically to customers.
 It also helps with export and import customs approvals.
Pros:
Convey has minimal transportation charges and periodic validation checks to prevent mistakes. It's simple to use, and the customer service is excellent.
Cons:
Convey is primarily useful for small and medium businesses. It only provides a particular number of specialized services and is tough to execute.
One step away to book your free demo
Choose the Best Shipping and Logistics Tracking Software
Effectiveness in shipping, transport, and logistics tracker is the firm's enterprise name. The most effective approach to staying ahead of the pack is to ensure you're utilizing the most effective sources accessible. Although shipping companies are the first asset you may require, you will need a plan to handle these partners and the orders distributed among them to get a competitive advantage.
This is where Track all shipments, carriers, and services come in. But, with so many choices, how can you know which is the best one to go with? We've developed a list of the most critical parameters to consider when picking an e-commerce shipment tracking software to make the process easier for you.
Operational Area
The accessibility of most shipping and delivery company monitoring software is determined by their location and the achievement of their different shipping collaborators. Even if a corporation has 300 or more shipping partners, none of them may be active in specific regions of the world.
As a result, you'll need to see if the shipment tracking software can adequately assist you in remembering the range of pin codes and cities where your clients are situated. Even though certain logistics monitoring software firms operate in such areas, you must be confident that they can manage the number of orders you need in that area. For example, a firm that predominantly works internationally may manage 50-100 orders per day, but it becomes useless when order numbers exceed that.
Software Costs and Charges
Rates for shipment/courier/logistics software, of course, have a significant influence on your company's profits. However, this is not always the case that the cheapest rates are the best. It depends on the support you wish to provide, the number of orders you receive daily, and how you intend to ensure the company's success.
So, what has to be examined is what services are included in any special pricing and whether the price of using such services through shipment tracking software pays out in other ways, such as improved customer service or shorter RTOs.
Shipping with Multiple Carriers
Always choose a multi-carrier shipment tracking software. Enterprises that employ multi-carrier shipping may reach a larger audience because each courier company's serviceability varies, take advantage of various enticing shopping discounts, and give their consumers a variety of shipping and delivery services. Even if a few carriers are down, multi-carrier delivery assures that your clients will never be left waiting.
Order tracking in real-time
Many organizations provide shipping tracking software that gives consumers order tracking updates; not all provide live or real-time information. Narvar, for example, does not provide clients with live order tracking or real-time tracking reports.
User-Friendly Features and Faster Onboarding
The ideal Shipment tracking software can be quickly set up to guarantee order fulfillment is not hampered. This implies that the onboarding process should be swift and painless, regardless of the number of orders, carriers, or users.
You'll also want to make sure it has a user-friendly interface to minimize unwanted order tracking delays. The functions should preferably be offered simply so that no complications or delays arise due to the software's numerous intricacies.
Various Delivery and Payment Methods
Suppose you want to give the finest online shopping experience for your consumers. In that case, you'll have to select a freight carrier tracking and logistics monitoring software that offers a variety of shipping and payment alternatives.
Customers may get items at their leisure thanks to features including On-Demand delivery. To lessen the risks of cart abandonment at checkout, you could also consider giving several payment choices such as cash on delivery (COD), credit/debit cards, net banking, wallets, and so on. All of these functions, and more, should be included in the top shipment tracking software.
Returns Administration
Because returns are a vital component of logistics trucking, having a good returns management system is crucial. Shipping organizations may use various courier and shipment tracking tools to manage returns. They are in charge of a shipment's entire return journey, from pickup and tracking to delivery at the warehouse. Furthermore, logistics monitoring software with returns management can make returns lucrative by making the returns procedure as simple as possible for consumers. These satisfied clients will want to buy at your store more frequently as a result.
Tracking page with your logo
A fully white-label tracking page with your brand's logo, colors, Instagram feed, and other features is one of the key attractions of Shipment tracking software. Customers can, therefore, follow their orders on a customized tracking website, including a marketing panel with sale items, discounted products, and other fun new elements. Because it may enhance sales and customer involvement, this is an absolute must-have tool for logistics and shipment monitoring software.
Customer Service
Every Shipment tracking software provider should, in theory, have a customer support team to help resolve difficulties and provide assistance. These services may include software implementation, onboarding new carriers or users, answering customer questions about order status, and so on.
We highly advise you to choose a Shipment tracking software with a good customer service staff. The shipment/courier/logistics tracking software company's efficient service will comfort clients and customers.
One step away to book your free demo
Utilization of the latest technology
To simplify shipping procedures and expedite order fulfillment, all types of shipping systems largely rely on the usage of reducing logistics technology. The same is true for Shipment tracking software, whose primary goal is to offer consumers complete visibility of goods as they travel from the warehouse to them by giving timely order status updates.
Without the greatest technology and tools, it would be impossible to communicate information quickly across all shipping channels via APIs that represent the EDDs. As a result, we cannot overstate the necessity of using cutting-edge logistics and courier tracking software.
Final Thoughts
Shipment/courier/logistics monitoring software has helped businesses worldwide flourish and expand to their full potential in three key areas. The first is in order management, where shipping API integrations are used to speed up assigning an order to a shipping partner and dispatching it. Therefore, the next step is to look into shipping. Most shipment and courier tracking software automate producing on-track shipping labels and even inventory management, ensuring that the item is delivered efficiently. The third is tracking, which allows the company and its customers to keep track of every stage of the delivery process in real-time, improving the customer's post-purchase trip and keeping them coming back for more.
Best Way Tracking:
With so many goods being shipped by shipping service providers these days, it's important to keep a tight check on them to avoid loss or theft of the shipment and delivery. We provide regular status updates for shipping firms throughout the world. To monitor an order dispatched with Best Way Parcel, all you have to do is check for the shipment's tracking ID.
Frequently Asked Questions
How to track containers?
The container number is one approach to tracing a container. A container number comprises four letters (the owner code), a six-digit serial number, and a check digit. ABCD1234567, for example. The owner code identifies the company that owns the container.
How to cancel proactive automatic shipments online?
Real-time locating systems (RTLS), sometimes referred to as natural tracking systems, are used to detect and track the position of items or people in real-time, generally inside a building or other enclosed environment. In most RTLS, fixed reference points receive wireless signals from tags to identify their location. Wireless RTLS tags are affixed to objects or worn by humans. Tracking autos through an assembly line, identifying pallets of items in a warehouse, and discovering medical supplies in a hospital are all examples of real-time locating systems.
Radiofrequency (RF) transmission is frequently used as the physical layer of RTLS technology. However, Optical (typically infrared) or acoustic (usually ultrasonic) technology is used in conjunction with RF in some systems. RTLS tags and fixed reference points can, therefore, function as transmitters, receivers, or both, allowing various technological combinations.RTLS is a type of local positioning system that does not normally refer to GPS or other satellite-based navigation systems.
How to track the amazon shipping tracker?
To find out where your shipment is, go to:
Go to the Orders tab.
Choose the order you wish to follow up on.
Next to your order, click TrackTrack any Package.
Items delivered by Amazon Marketplace sellers can be traced, but only if the seller has supplied their tracking information with Amazon and you have chosen a traceable delivery method.
How to track your proactive order?
Enter your Proactiv Trucking Tracking number to quickly track and trace your Proactiv Plus Courier, Package, Parcel, and Shipping Status, and get an exact date.
How to track bills of lading?
The present location of the container may be tracked at any moment. You must provide the container number/Bill of lading/Booking number and the shipping line to track a container's position. However, you can monitor a container and see using any of these three references.
One step away to book your free demo